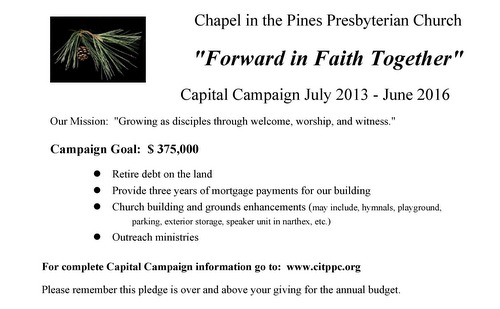 Why conduct a
Capital Campaign at this time?
In
2010 the Presbyterian Investment and Loan Program provided Chapel in the Pines with
the funds to construct our building. (Previously we borrowed the funds from
PILP to buy our land.)  As a condition of
the loan we agreed to hold another campaign in 2013. We have 18 years and
$923,260 remaining on our mortgage.
The
first Capital Campaign raised pledged funds for the down payment and three
years of monthly mortgage payments.  This
new campaign builds upon the pledges made during the first campaign.  If you have not already fulfilled your
2010-2013 pledge, please send the remainder of your first campaign pledge by
June 30th.
 ==========================================
How will the
money be allocated?
Our
goal of $375,000 will:
1.    
Pay off the balance due on the mortgage for the land.  ($71,412)

2.    
Make 36 monthly mortgage payments of $6152.64.  ($221,495.04)

4.     Allow the
Session to consider additional options such as:

Reduce our mortgage principal
Obtain new hymnals
Construct a playground
Pave critical portions of our drive and parking area
Address other needs and possibilities