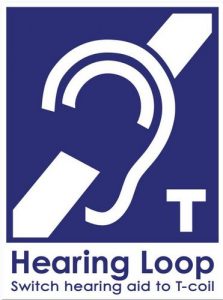 Chapel in the Pines has "Hearing Loop" technology in both the sanctuary and the fellowship hall to assist anyone wearing hearing aids or planning to acquire hearing aids. This is the latest technology in hearing assistance.
The hearing loop transmits sound directly from the microphones of the sanctuary or fellowship hall sound system into your hearing aids. Most hearing aids today have as one of their settings what is called a "T-Coil" ("tele-coil") setting. Simply switch your hearing aid to this setting and you will instantly be connected to the hearing loop of the sound systems. If you do not know how to activate your T-Coil visit your audiologist or hearing aid technician and ask them to activate your T-Coil. Tell them your church has installed hearing loops. Other churches and public spaces are starting to add this state of-the- art technology, or adapt their hearing assistance devices to if, so you will find increasing opportunities to make use of the feature once your T-Coil setting is activated.
Here are some questions you might have:
"If no one is talking into a microphone will I hear ambient sound (music, talking, etc.)?"
Perhaps not. When your hearing aid is set on the T-Coil setting the hearing loop transfers sound directly from the microphones of the sound systems into your hearing aid. The microphones, by design, do not amplify the ambient sound in the room, so you may need to switch out of your T-coil setting for music and singing. We hope to add microphones for the piano and other musical instruments at some point in the future.
"I don t have hearing aids, but I would like to use the personal hearing assistance devices ITP has available."
If you like the experience of having sound delivered directly from the microphones into your ears but do not wear hearing aids, our ushers will provide you with a personal device that receives the sound transmitted from our hearing loop into either personal earphones or ear buds (you choose); simply ask an usher.
Some folks prefer to bring their own ear buds or earphones to plug into the device the usher will provide.