Thanksgiving Dinner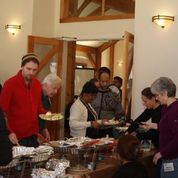 As has become a tradition, the UNC Center for Excellence in Community Mental Health and XDS, partners in forming the Farm at Penny Lane, will hold their Thanksgiving Day Luncheon for staff, faculty, and clients at Chapel in the Pines.
There are some specific ways we can help support this event, not all of which require your presence. Perhaps you can donate a bag of apples, a pie, or a gallon of cider. Or perhaps you are available th
e day before to help set up and decorate the sanctuary. You can access the sign-up sheet of opportunities by clicking here.
Your help is welcomed and appreciated! For more information, you may contact church members, Karen Fisher by clicking here or Michelle Morehouse by clicking here.
Thank you especially in this season of Thanksgiving.