Mt. Zion Celebrates 168 Years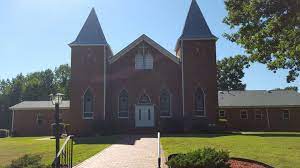 Our friends at Mount Zion Missionary Baptist Church are marking 168 years of ministry this Sunday, September 26. We are grateful for their rich legacy of faith and excited about our partnership for the future. You can read a history of the congregation here:
---
Mount Zion Missionary Baptist Church – Chatham County, N.C.
Church History
The "Cornerstone date" 1853 during this period Mount Zion Baptist Church began its history.  Our church started in the kitchen of the slave master.  The Black American Christian wanted a place to worship God, and the overseer granted them permission.  This usually took place when a trustworthy Black American approached the white overseer.  In our history, between 1853 and 1867 the Black Americans and White worshippers, worshipped wherever they could.  They did not have a church building or a stationary location.   Little is known of the Mt. Zion fellowship during these times, as there is no documented history, the white members started Lystra Baptist Church around 1854, some Black Americans worshipped with them until around 1867.
During this period in Mt. Zion history slavery had not been abolished in the South.  US President Abraham Lincoln was the most influential president during this era.  Both races worshipped together during the day, while Black worshippers in the South would have secret meetings at night in the "brush arbor".
Some have asked why did our ancestors choose the name Mount Zion?  Names of churches during this period were based on location of the assembly; the seven churches found in chapters two and three of Revelations in the Bible; the name of the person who donated the land and/or building.  Places named in the Bible, Mount Zion is a place of blessings, the earlier organizers of Mt. Zion wanted a place to worship where God's blessings could flow.
In 1867, the Black Baptist Church of Chapel Hill (Rock Hill) requested of the Sandy Creek Association (Whites), the best mode of conducting themselves as Christians.   The Sandy Creek advised them to form themselves (Blacks) into churches and associations. In this regard, three black members of Lystra Baptist Church, Chatham County namely Aaron Oldham, Dempsey Fearrington and Edmond Riggsbee requested and where granted letters in March 1869 to form a church of their own.   Early in 1870 these brothers organized the Mount Zion Baptist Church.  They held worship services in "brush arbors", and later purchased a small parcel of land from Mr. Ace Riggsbee. On this land they erected a building below the present Rock Wall.
History tells us that the first services of Mount Zion Baptist Church were held in a brush arbor, located below the rock wall, and was built by Reverend E. H. Cole in the early 1800's.  The present church building was erected above the rock wall in 1926.  It was constructed of wood and was built by C.C. Craig of Chapel Hill, North Carolina.
The roll call of Pastors at Mount Zion Missionary Baptist Church is as followed: Rev. E. H. Cole 1870-1900, Rev. L.H. Hackney 1900-1937, Rev. J. H. Jones 1938-1953, Rev. J. R. Burt 1954-1987, Rev. Larry D. Jones 1988-2004, Rev. George Rowland Walls 2005-2010, Rev. Joseph Morgan served as Interim Pastor from June 2010 – January 2012, Rev. Larry McCray Neal – current
November 2012 Reverend Larry McCray Neal was installed as pastor of the Mount Zion Missionary Baptist Church, Chatham.  Pastor Neal, First Lady Patricia and family relocated from Franklin County to Pittsboro, NC where he could be of greater service to his congregation.  Pastor Neal is committed and lives by his favorite scripture. Ephesians 4:1
Every fourth Sunday in September we celebrate our Homecoming/Church anniversary.  Taking time to look back over the blessings of the past year and forward into the future with anticipation for what the Lord is going to do in the year to come.  It is also a time for those who have been a part of our church body in the past to "come home" and join us to celebrate their time as a part of our congregation.
Mt. Zion Missionary Baptist Church, Inc. is called to proclaim the Gospel of Christ and the beliefs of the evangelical Christian faith.  We will honor God through worship, and inspire in all persons a love for Christ, a passion for righteousness, and consciousness of their duties to God and others in our holy faith.  We pledge our lives to Christ and covenant with each other to demonstrate His Spirit through worshiping, witnessing, and ministering to the needs of the people of this church, community, and nation.
Anniversary Blessings!
Pastor Larry M. Neal, First Lady Patricia Neal
And the Mt Zion Missionary Baptist Church Family