Hall-4-All Celebration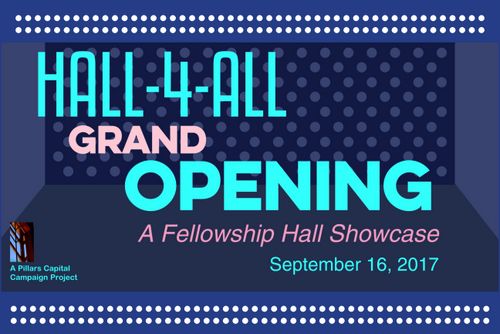 Chapel in the Pines invites everyone to a HALL-4-ALL grand opening celebration on Saturday, September 16 from 8:00 a.m. to 5:00 p.m.
In June 2017, construction of a 3,067 sq. ft. fellowship hall was completed. This space will provide meeting and event space for groups and organizations in northern Chatham County and the church wants to demonstrate to the community the myriad ways it can be used.
The public is invited to come for part of the day or stay all day long. There will be activities for all ages: walk/fun run, corn hole games, storytelling, sing-a- longs, choir concerts, a conversation with our Muslim neighbors, tours of the church and remembrance garden, food truck, and an ice cream social, just to name a few (see attached schedule).
Chapel in the Pines Presbyterian Church (a PCUSA congregation) developed from a vision of University Presbyterian Church in Chapel Hill and the Salem Presbytery to respond to the growth in north Chatham County. It was chartered in May 2008 and began worshipping in its newly-constructed sanctuary December 11, 2011.
Chapel in the Pines Presbyterian Church (PCUSA) meets every Sunday morning for worship at 10:30 a.m. Child care is rovided. We welcome everyone without regard to gender, ace, ethnic origin, sexual orientation, and physical or mental bility.
Chapel in the Pines is located at 314 Great Ridge Parkway off ann's Chapel Road from US 15-501 South of Chapel Hill, NC.
---
Schedule of Events
8 – 9 a.m.
Walk/Run from Fellowship Hall to Briar Chapel and back down gravel road.  Kids may do side walk chalk
9-9:30 a.m.
Official welcome – recognition of those who worked to build the hall
9:30 – 10 a.m.
Chapel in the Pines music programs – Jeremy Nabors and Rob Passow
10:15-10:45 a.m.
Singalong with Paul and Peggy Ising
11-11:30 a.m.
Storyteller – Brian Sturm
11:45-12:15 a.m.
Men's Choir from Mt. Zion Baptist Church
12:15-1:15
Outdoor activities, tour the garden, corn hole, fire truck, food truck, side walk chalk, bubbles, frisbees
1:30 -2 p.m.
Emma Lanford, soloist, from University Presbyterian Church Youth Choir
2:15 – 2:45 p.m.
Fearrington Village Singers
3-4 p.m.
"Know Your Muslim Neighbors:  An Open Conversation" [Quiet/nap time with storyteller for young children.]
4-5 p.m.
More outdoor time, garden tours, corn hole, bubbles, ice cream – conclusion