Fuel Up Program at Perry Harrison Needs Your Support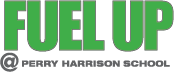 The Fuel Up program at Perry Harrison School is changing its normal operating procedures due to Covid-19 pandemic. All binning, packing and distribution by our volunteers is suspended. Until further notice, Fuel Up volunteers are not allowed into Perry Harrison.
We are not suspending our program and will continue to work to provide food for the 48 students we serve. A team of teachers will take over and we are making changes to the shopping list for Spring Break Program to eliminate the need for volunteers to pack and distribute the foods.
The best way to support our students is to sign up for Fill-A-Bag or Fund-A-Bag. You can sign up for these programs on our website, http://fuelupkids.ch2v.com/
Thank You for your continued support. We could not run the program without you.