Chapel in the Pines Presbyterian Church
Weekly "Kids'" Activity 
 Hello, friends,
For the duration of our time away from one another, I'll be creating a weekly activity for "children" to do at home.  You may have noticed that "children" is in quotes.  That's because this activity is for people who are actually children and for children at heart.  (And by children at heart I mean all of us adults!)
Here's my video message introducing this week's activity "All Things Bright and Beautiful".
And here's a few ideas to get you started…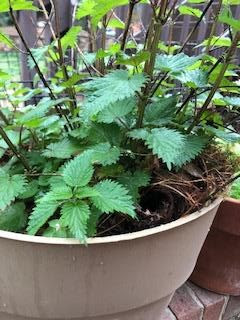 In this picture, you can see the beginnings of a nest that a bird is building underneath my Stinging Nettle plant.  As the name suggests, touching this plant is an unpleasant experience for humans.  (It doesn't bother most animals). When I noticed the bird constructing this nest, I thought of the ways that God comforts and protects us, even in the midst of difficulty.
As my chickens foraged for bugs after the rain, I was reminded of God providing manna for the Israelites as the wandered in the wilderness (Exodus 16). (The chickens also protest about the selection of food, just like the Israelites did).
Please send me photos and a quick blurb about how that image reminds you of God or scripture reference.  You can email or text me the pictures and I'll compile them to share at the end of the week as an "offering" to the congregation.  You can email pictures to me at:
jbrummittyale@citppc.org
or you can text them to (919) 250-8268. (If you text, be sure to identify yourself because I may or may not have your number saved in my phone.)
🙂 Joelle
If you'd like to turn this activity in an extended learning experience, here's a few resources to get you started:
To identify plants you discover, download the iPlant or Plant Snap app on your smart phone.  The apps allow you to take a picture of the plant and then they matches that picture to pictures of possible species.
To identify birds you may encounter, download the Merlin Bird ID app on your smart phone.  The app allows you to enter the traits of the bird and then suggests possible species.